Concrete Countertops and Design Elements
It's Concrete… Don't take it for Granite!
For those who desire a countertop that stands apart from ALL other common surfaces, "StoneCrete™" 100% GREEN, Geopolymer concrete is the answer. StoneCrete™ is the world's first all-natural – Geo concrete product formulated in 2009 for use in the decorative concrete industry. If your countertop options have only included granite, tile, synthetic solid surfaces or engineered quartz, then you understand the limitations and frustration with such materials that are most commonly installed today.
StoneCrete™ brings new options for countertop surfaces and custom design elements while enhancing durability and strength. StoneCrete™ far surpasses other commonplace materials in design choices for shape, color, thickness, embedment's, and more. Because of its richness and limitless design options, StoneCrete™ is perfectly suited for those clients that want a look that is unique and interesting. We seek and identify with the decerning owner…
Alluring Features and Design Elements
One of the most alluring features of our custom concrete countertops and concrete design elements is that they are hand-crafted by artisans and are never mass produced in a factory. The door to your imagination in design, is wide open with this malleable material shaped in the hands of our experienced craftsmen. Each piece is custom molded, hand poured and finished giving it that one of a kind crafted look. Concrete is not your typical, characterless material, it is aesthetically pleasing and alluring, and intoxicating to the touch and feel.
At Monster Constructors we excel in the art of custom concrete design from countertops, bars, sinks, tables to exotic elements that creative vision brings forth to heighten and challenge our skill. Our clients tend to lean towards unique customization and at time's exotic displays of artistry. Others seek the sleekness of clean simplicity.
If you can Envision it, we can Create it with StoneCrete™!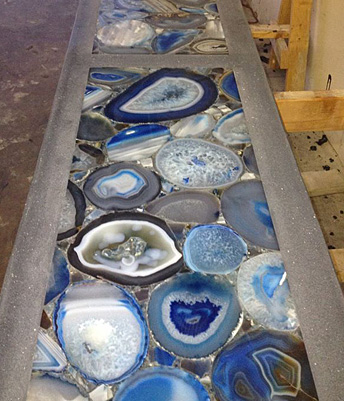 Considerations
1) Customization options are virtually limitless.
You are able to choose the exact color and shape you want, pick a unique edge profile, add embeds, and or polish the surface to a mirror finish.
You can choose to leave the concrete its natural buff or customized it to replicate the look of a flowing riverbed or even a slab of ancient petrified wood.
Textures and finishes are available to match any design style, traditional, modern, contemporary, industrial, or rustic.
You can add custom features that can be casted into your counters including drainboards, trivets or cutting boards.
Recycled glass or stone aggregates can be added to the mix to create a beautiful array of color, Terrazzo appearance or a semi-precious stone display.
Or take your design over the top with integrated fiber optic lighting, a stenciled logo or a scenic glow in the dark river.
The end result is a true one of a kind masterpiece of Artwork, with massive character, unique taste, and a reflection of your personal style!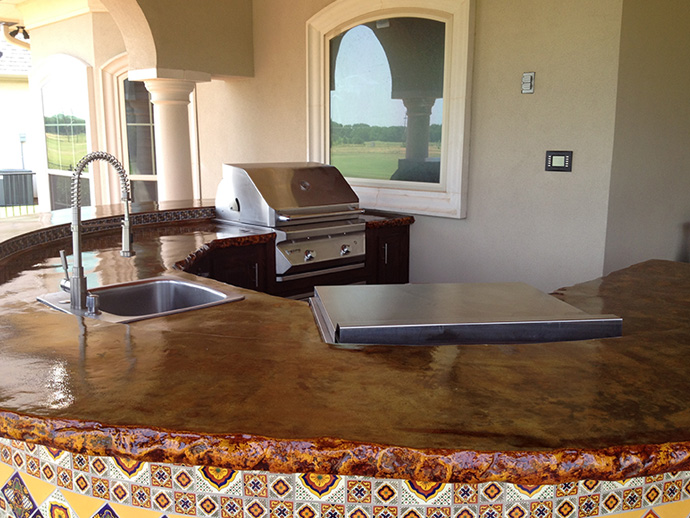 2) Durability is a clear advantage. We reinforce the mix by adding glass fibers, making our products exceptionally strong and durable. Reinforcement allows for long, seamless spans and even daring overhangs not possible with other materials. An additional benefit is that glass fiber reinforced concrete (GFRC) is far less likely to crack, and we are so confident with our Geopolymer formulation that we back it with a limited lifetime warranty against structural failure.
3) Because we are designing custom countertops with unique design elements the timeline from concept, design, cast, cure, finish, and seal will take time. You need to plan for the turnaround time to be approximately a few weeks, and this depends on the complexity of the customizations

4) One often overlooked aspect is the long-term value that is added to the property. Monster Constructors produces handcrafted premium products which bring an intrinsic value that increases the overall value of your home, making them a great investment... The timeless design plus the inherent durability of the material will equal decades of functionality. Long-term this will save you time and money, by not requiring the replacement of outdated or worn out materials. Following in step of fine wines, Concrete only gets better with age!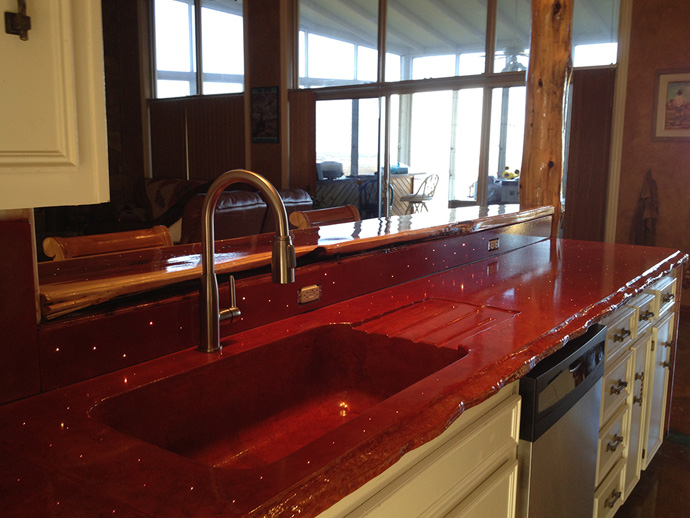 "They Really Listened To Our Requests."
"We couldn't be happier with our new concrete countertop. It is totally custom, based on our space as well as our needs; it was so nice to be involved throughout the whole process, Monster Constructors really listened to our requests."
Larsen Family - Frisco, Texas
What Do They Cost?
Custom concrete countertops and unique design elements are generally comparable to high end granite or marble. The difference is that the majority of the cost does not come from the materials used, but lies in the artisan's creativity and design skill, as well as the safe transportation and installation of the finished product. The average cost range is $75 per square foot to approximately $125 per square foot. For an extremely complex and more creative design, the cost can be more, but we try to stay in the range of $95.00 per square foot for countertops, to include installation if possible. You need to remember that unique Custom design elements are priced differently and by the project.
Considerations that play a role in the final cost of your project are the shape, size, thickness, color and finish, as well as additions such as edge designs, backsplashes, inlays, decorative aggregates, fiber optics, artistic scenes, time requirements and difficulty factors.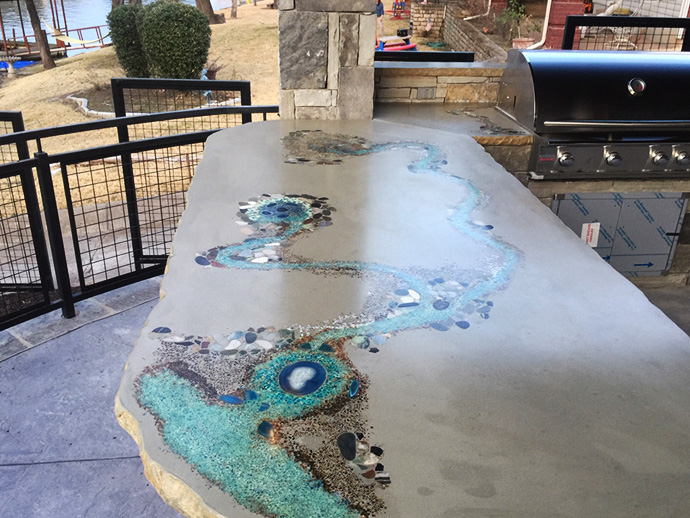 "Exceeded Our Expectations!"
"The finished product far exceeded our expectations. I'm so excited to have "one of a kind" concrete countertops, custom built for our home. Beautiful! "
Kelly W. - Houston, Texas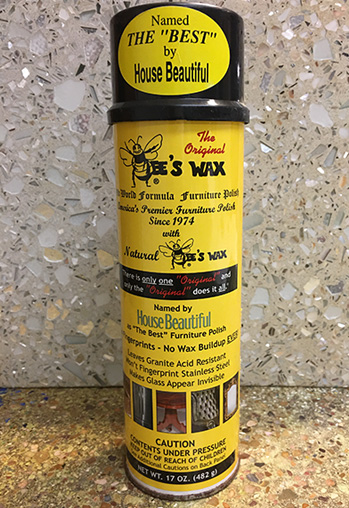 Care and Maintenance
To keep StoneCrete products looking new, common sense and minimal maintenance is required. StoneCrete countertops and or design elements should be cleaned with non-abrasive cleaners and a soft cloth wipe-down with a mild solution of soap and water.
Remember:
Always use a cutting board or food preparation mat on counter and bar tops
Use soap and water with a dish cloth to clean the surfaces of StoneCrete products
A product called "The Original Bee's Wax" 17 oz aerosol spray is an excellent choice to not only clean but form a dry protective wax barrier on your StoneCrete products, not to mention on most everything in your home! It is amazing… and readily available online.
Concrete Countertops - Project Gallery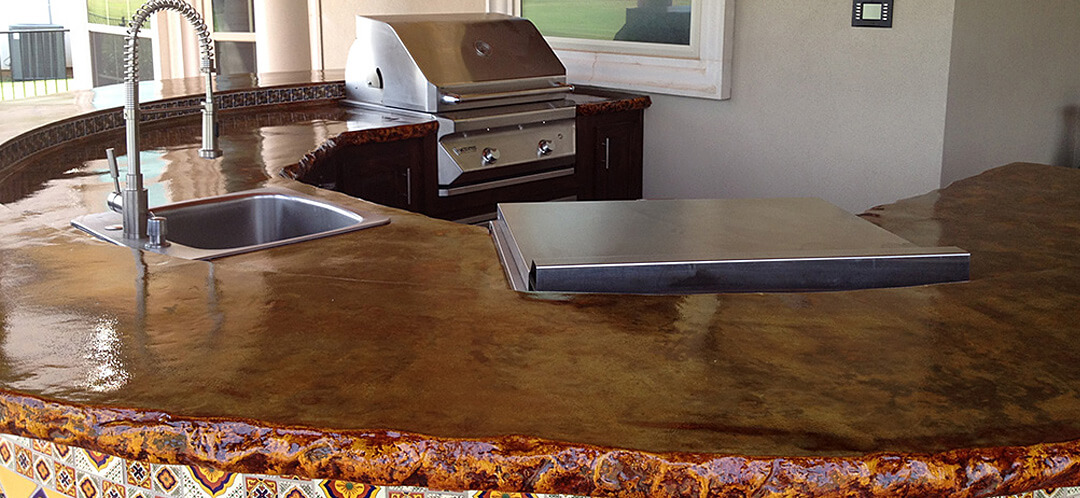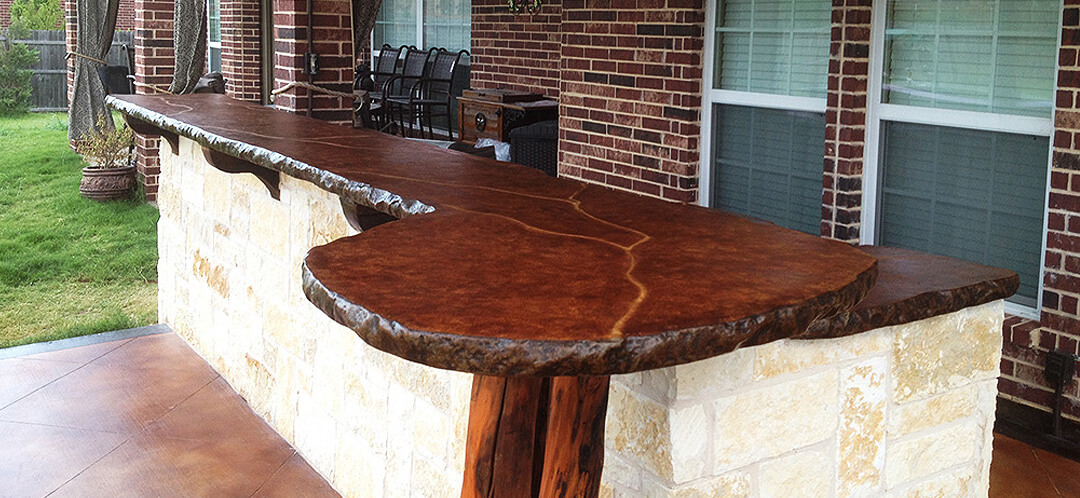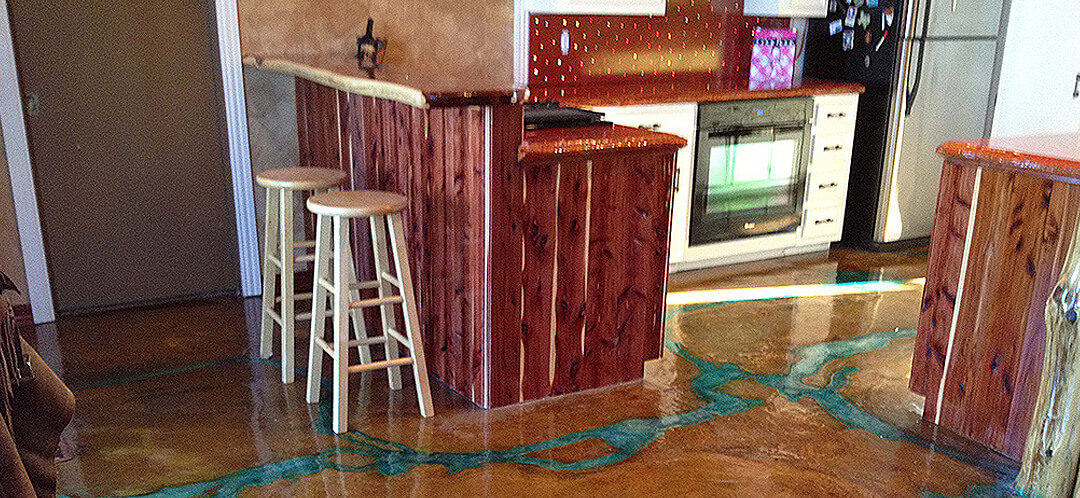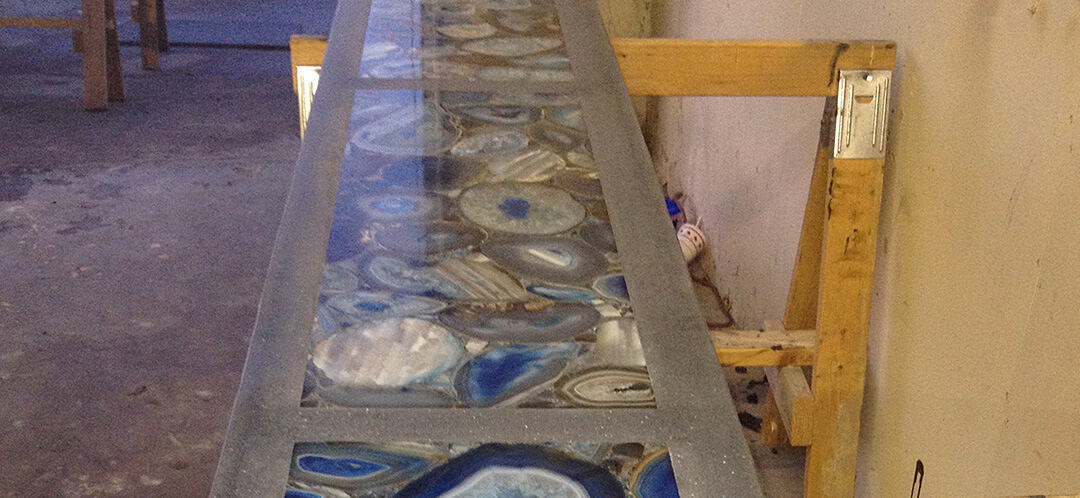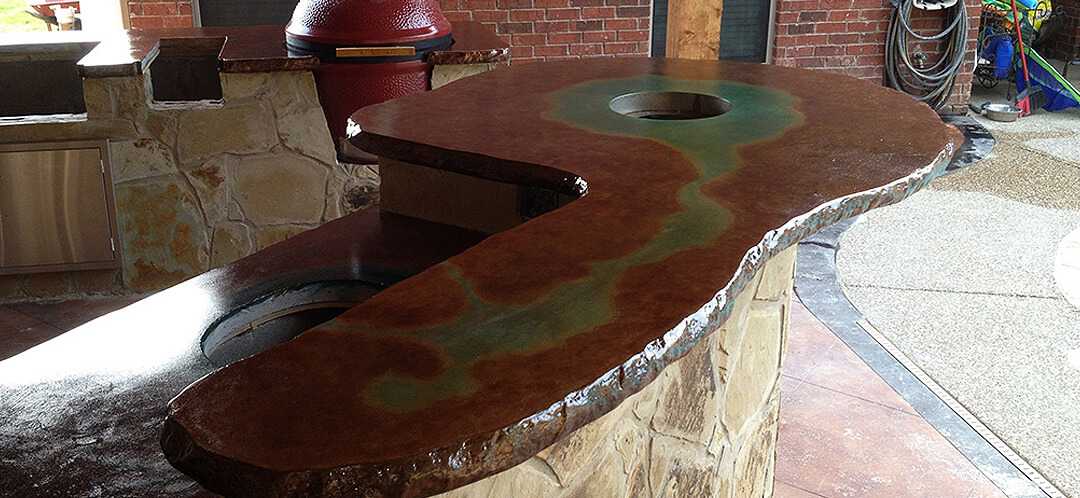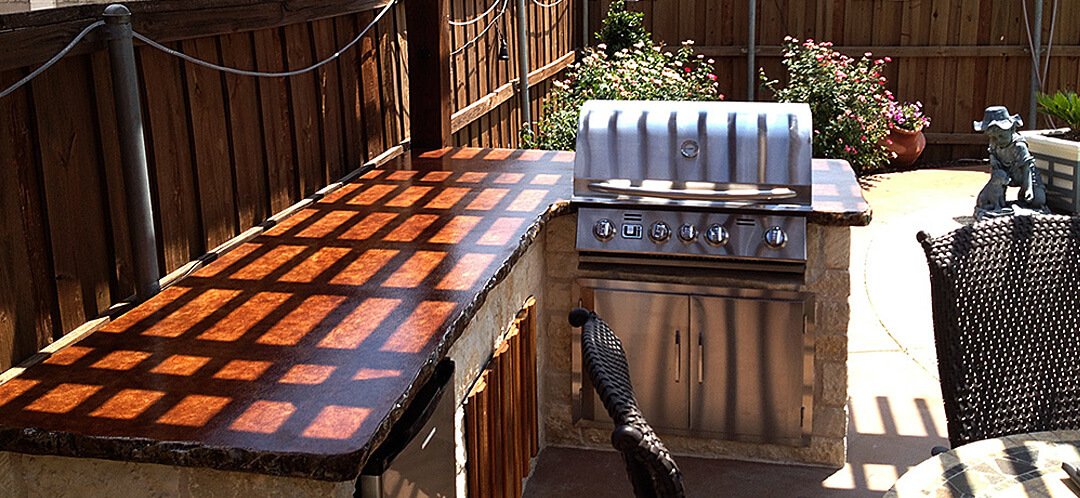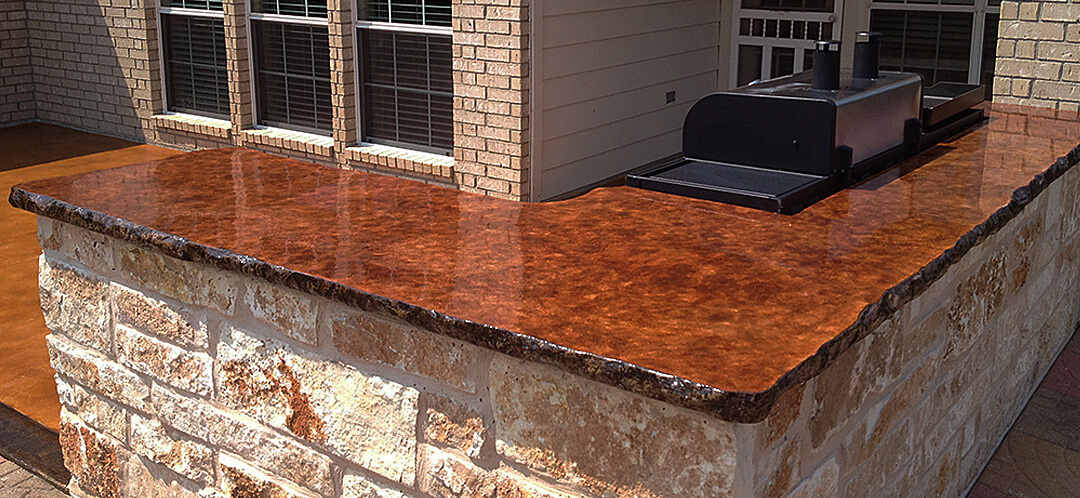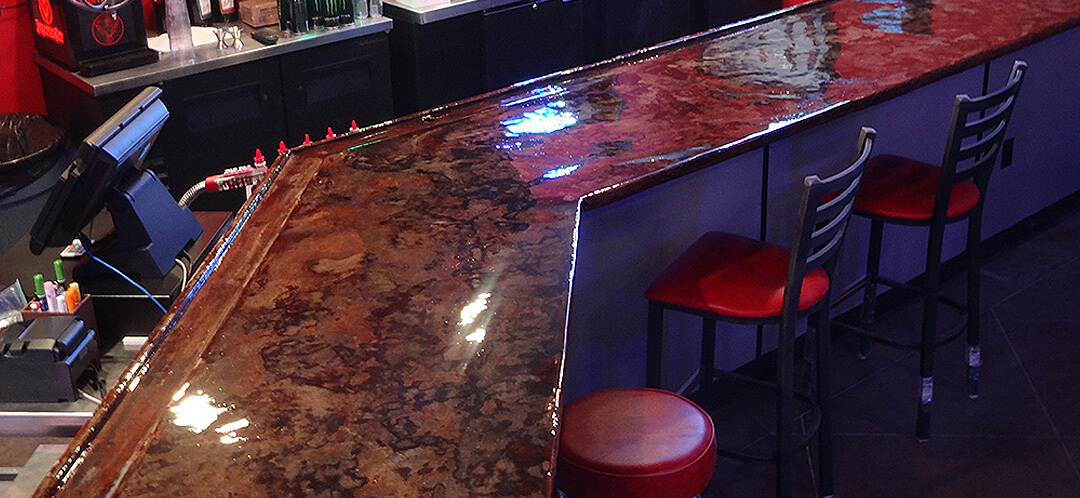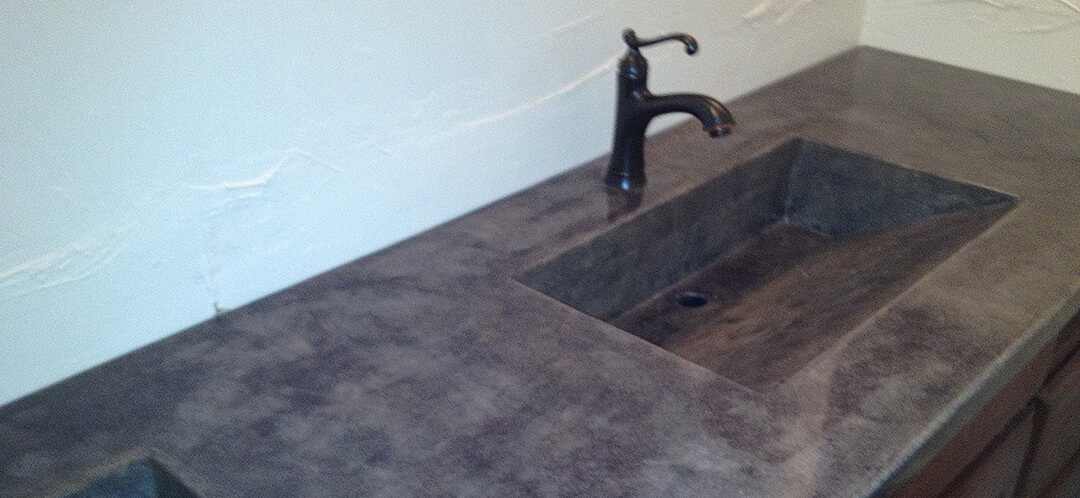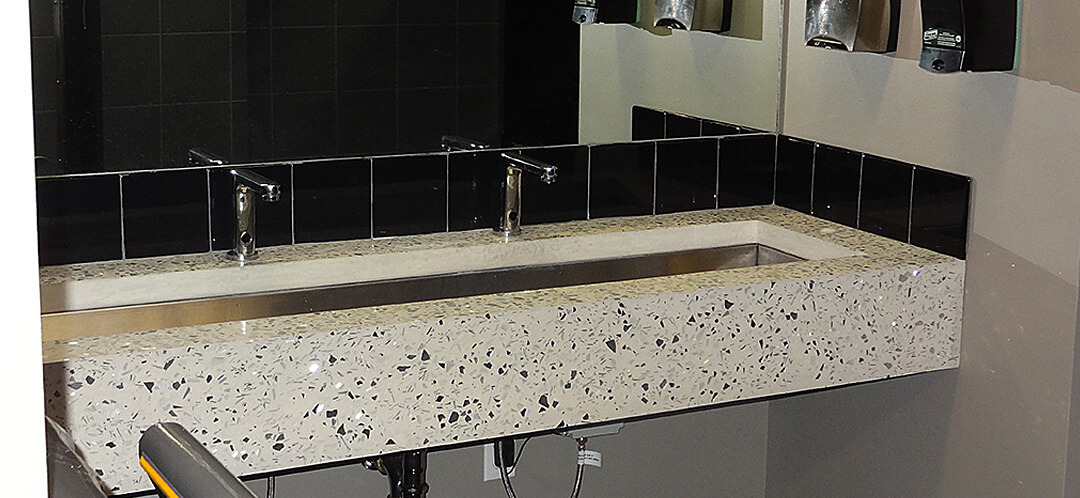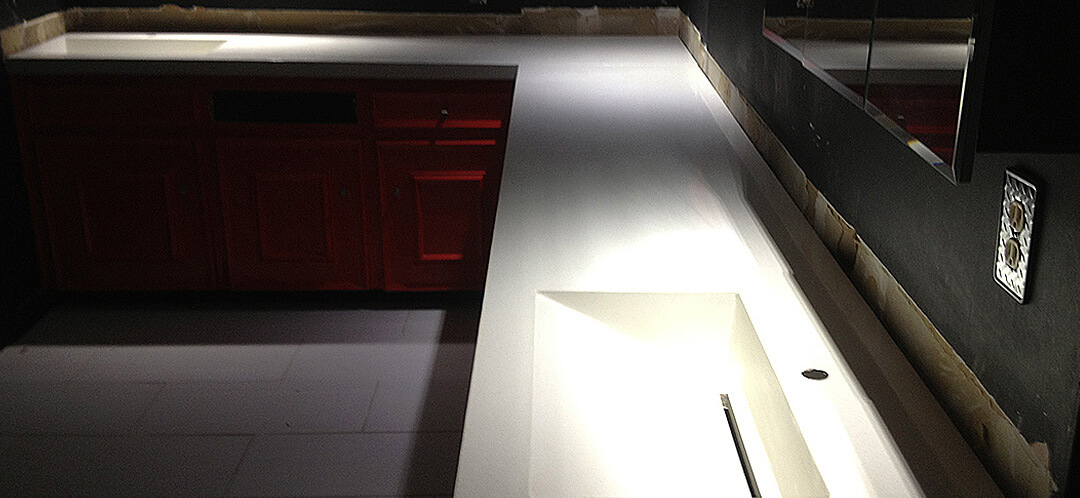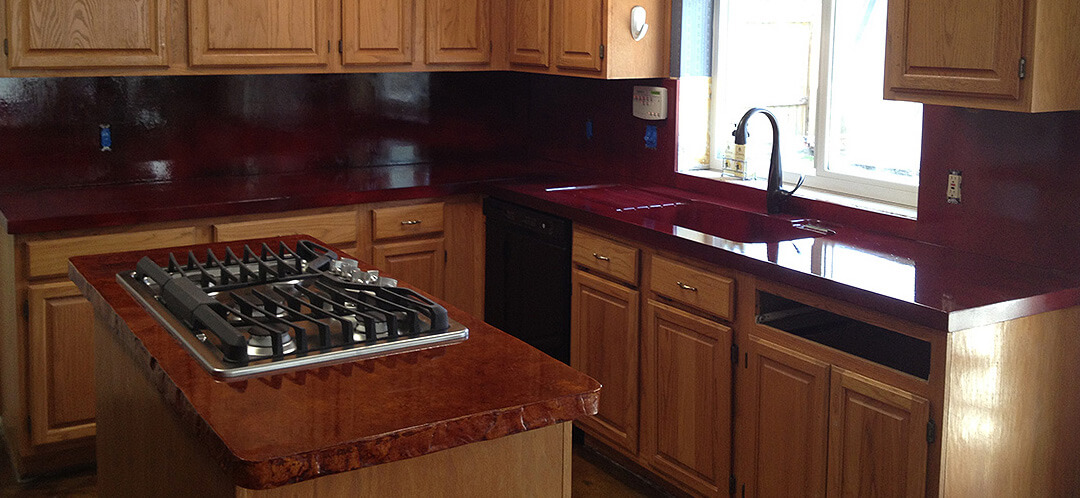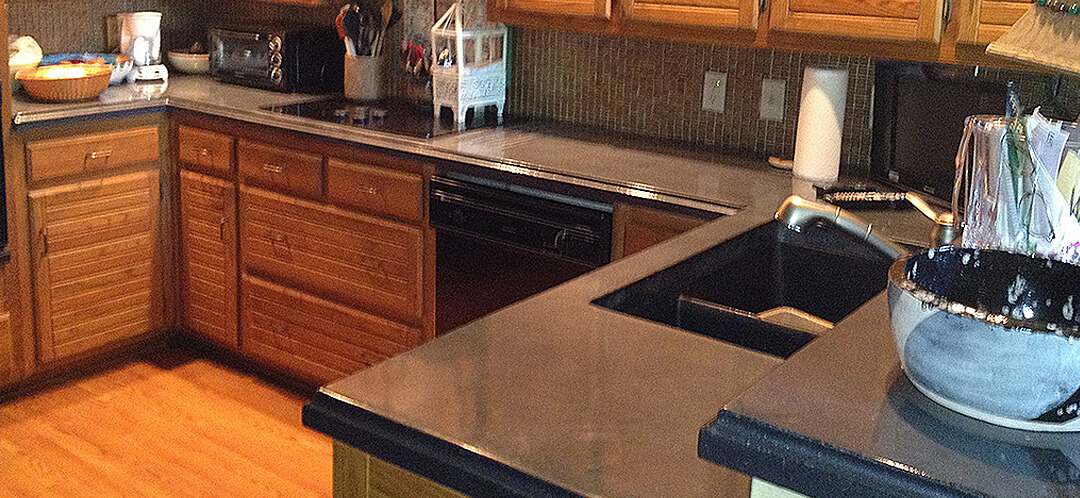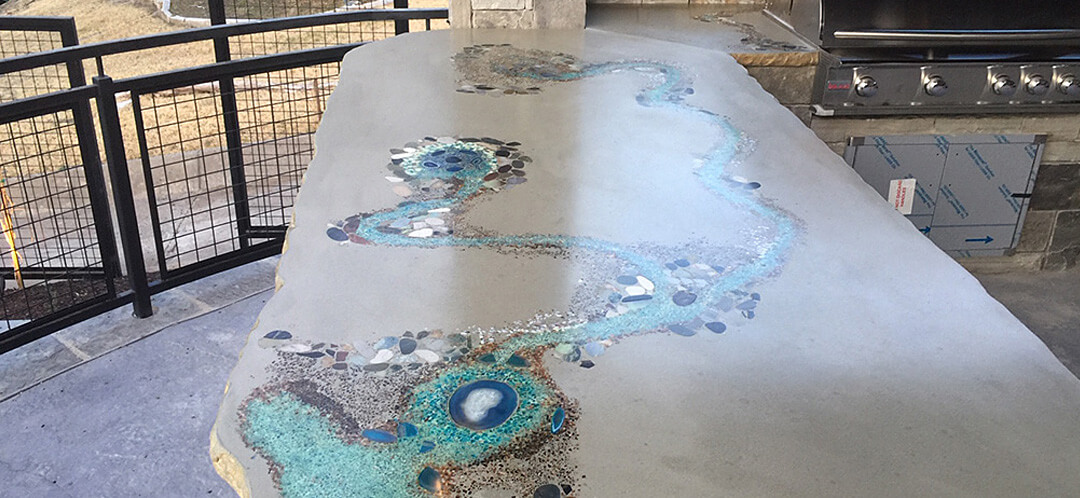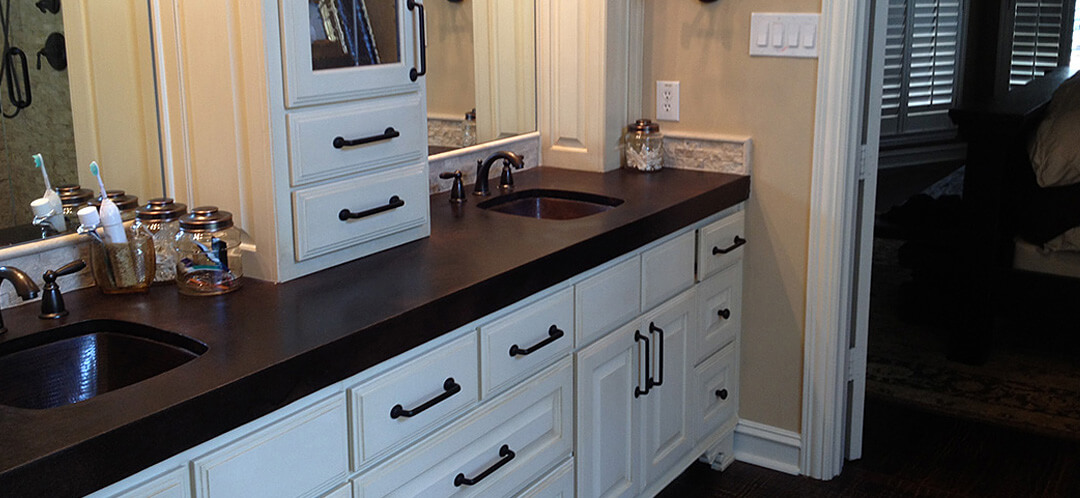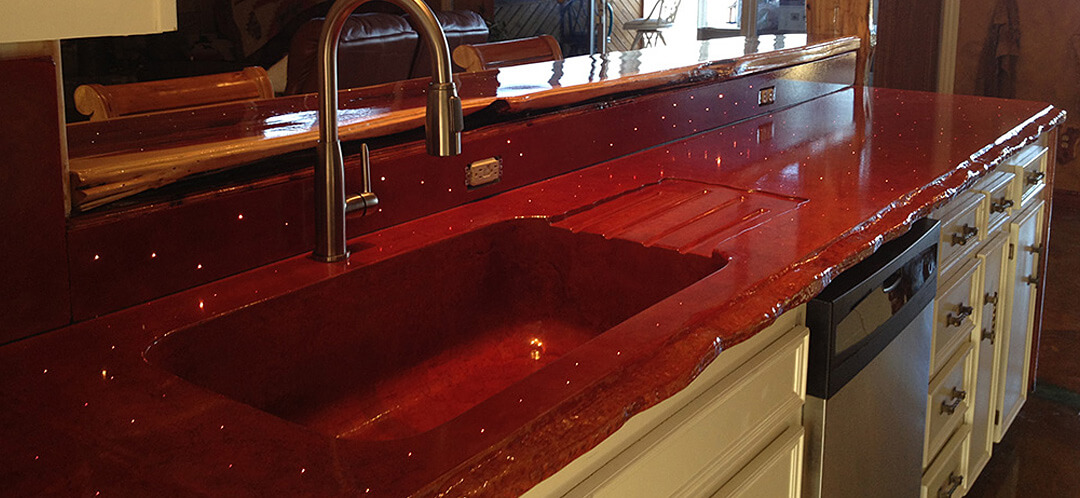 "They Exceeded My Imagination!"
"Monster Constructors attention to detail and their artistic ability exceeded my imagination. My countertop is a work of art!"
Carol D.- Carrollton, Texas
"A Work of Art Created for You!"
"If you really want a work of art created just for you – Monster Constructors will listen to your ideas and turn cement and rock into exactly what you want. Our Island top is amazing!"
J. W. - Friendswood, TX (Countertop)

Accepting Digital Asset Payments