Custom Patio Structures & Pergolas
We help homeowners realize their dream home: from custom patio structures and pergolas, to spectacular decorative concrete and opulent outdoor kitchens that create a true outdoors experience.
Protect your family and beat the heat with our convenient customized outdoor areas. Enjoy the natural beauty of your garden as Monster Constructors builds you an exceptionally inviting outdoor living space. This magical space can be a special expression of your unique style and creativity, enjoyed by you, your family, friends, and business associates all year round. We work closely with each homeowner to truly understand their vision. Then we strive to exceed it. In addition, it is one of the best investments you can make to enhance the value of your home.
We Can Provide You With:
Open Air Living Spaces - Pavilion, Pergolas, Cabanas and Palapas
Custom Masonry – Patios, Columns and Fireplaces
Outdoor Kitchens – Cabinets, Concrete Counter/Bar Tops
Custom Concrete – The Sky is the Limit as this is Who We Are!
Shade Structures
Need some shade? Want to beat the heat? Our Shade structures are just the trick to get you out of the Texas sun or rain.
Nothing beats the Texas heat and adds more charm to your outdoor living area than a custom-made shade structure or pergola. We build with massive beams that give our Structures beautiful style and superior strength so that they withstand just about anything that Mother Nature can throw at them. Custom structures and pergolas also serve practical functions, providing homeowners with shade and protection from the elements.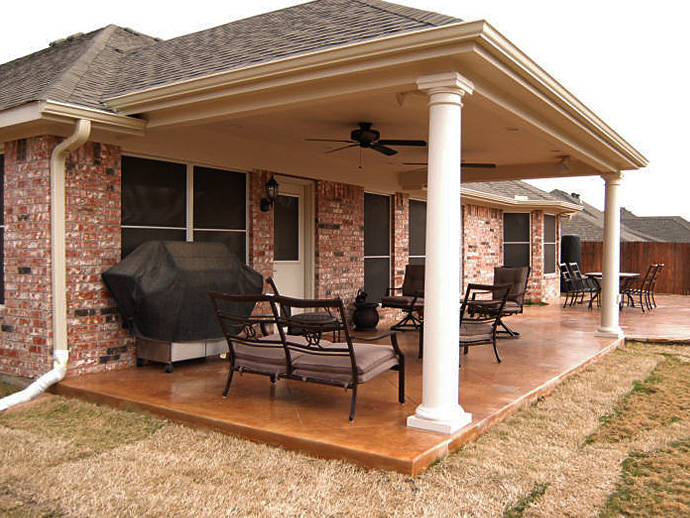 A gable or hip roof design can be built out from the home. This makes it a true extension by sharing existing roof of the house. These designs also offer the ability to enclose the structure with full walls or screens. Both roof designs look great and offer a built-in look while providing protection from sun, wind, rain, or snow.
"They Delivered Beyond Our Wildest Dreams!"
"WOW! That is really all we can say about Monster Constructors, they delivered beyond our wildest dream with our outdoor living area. We could not have asked for a better company to have worked with, totally transparent and honest. We highly recommend them."
Studdel Family – Dallas, TX (Outdoor Living)
Pergolas
Pergolas are versatile additions to any home. Place them on a deck or add them to the center of your yard, drawing the eye to a classy addition to your outdoor space. In addition, we can customize the size, spacing, and shape of the Pergolas top shade rails to suit your exact needs so you can get just the right look and amount of light that you desire. We also offer a sleek styled polycarbonate roof to keep that open-air feel while cutting down UV rays by an estimated 97%. This roof system also allows year around use blocking sun, rain and snow.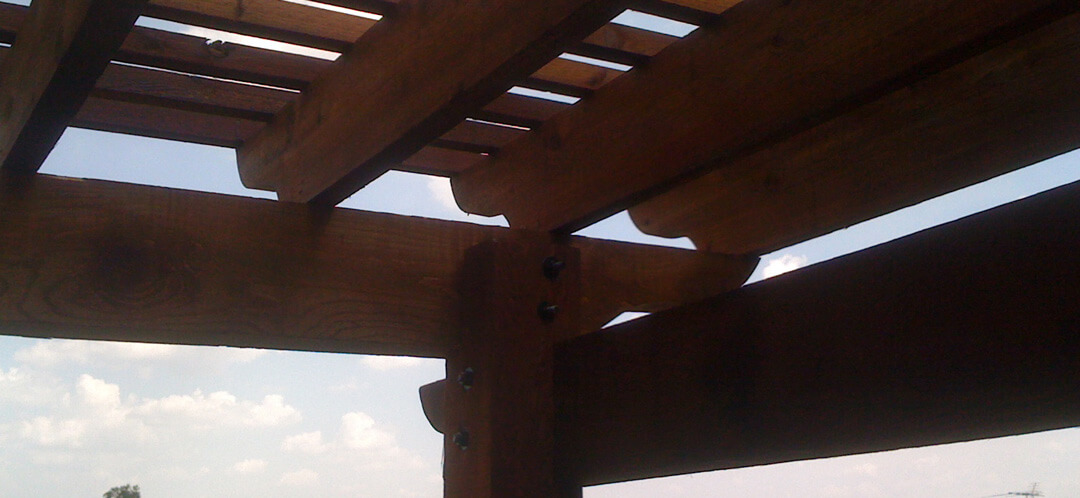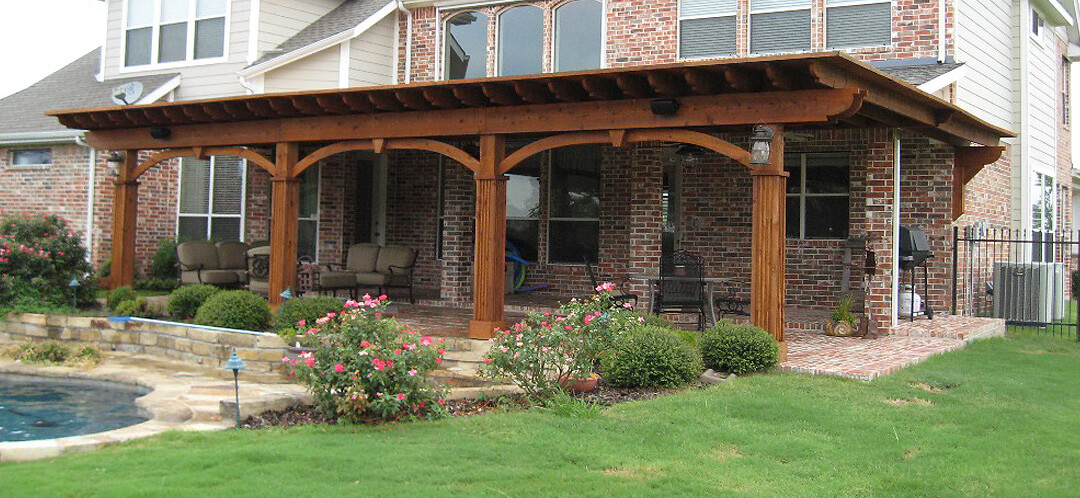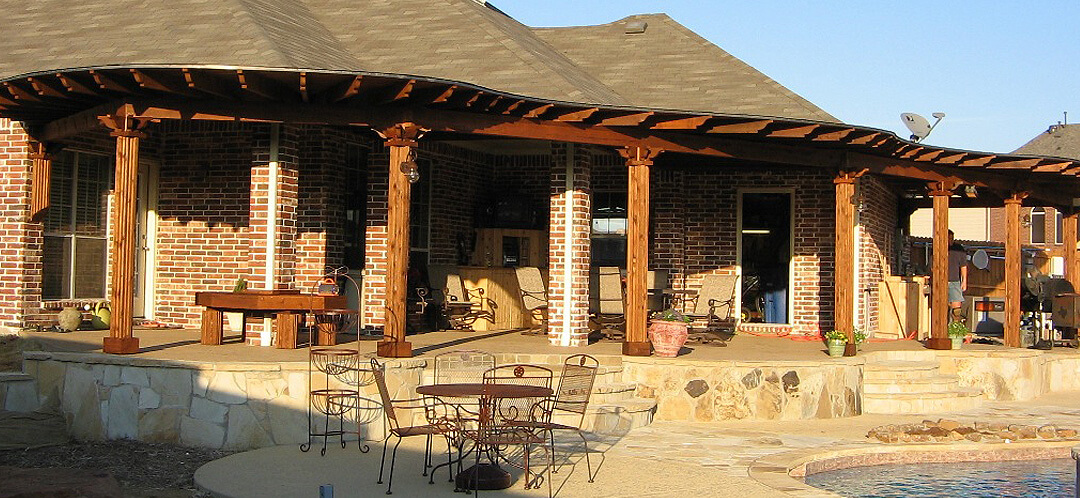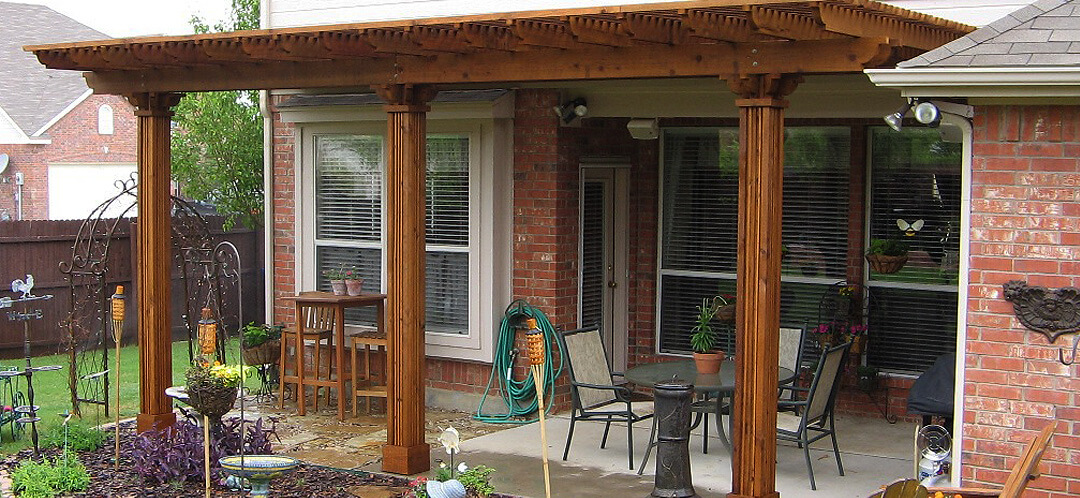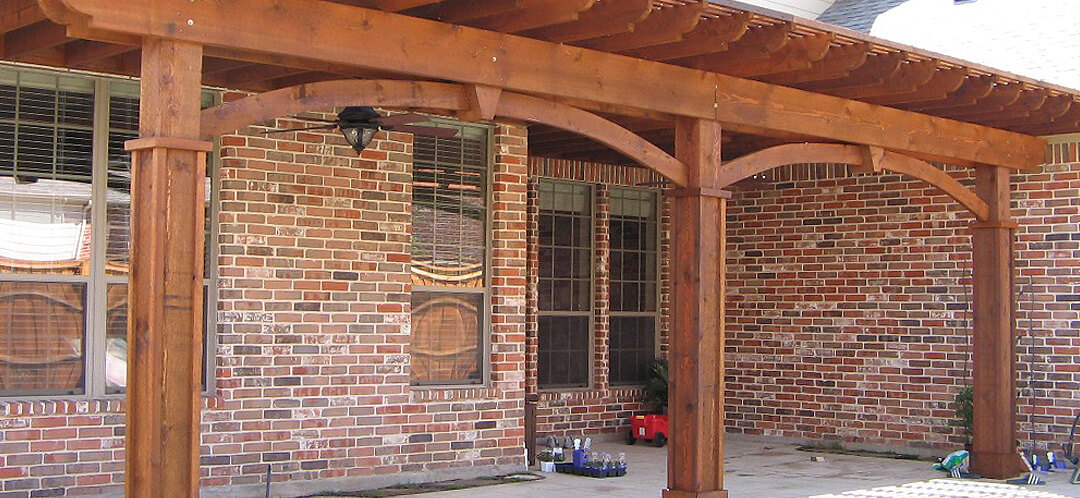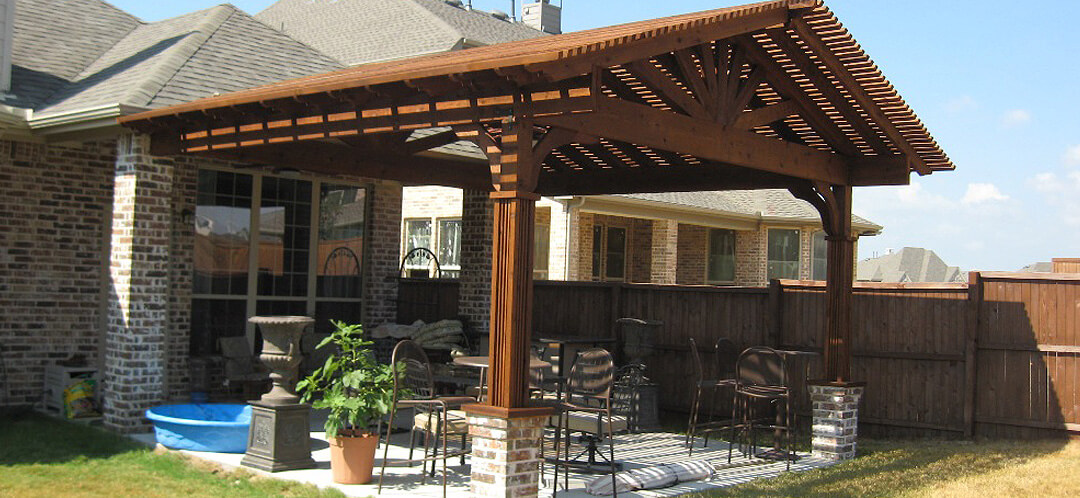 "Their Work Is Amazing!"
"Monster Constructors is a collective of exceptional artists whose number one objective is to please the client and give them what they want and more. I have never loved sitting outside more under my beautiful pergola. Their work is amazing!"
Sherry P, - Denton, Texas (Pergola)
Palapa Huts
Looking for a more tropical look around that pool, we also custom stick build on site Palapa Huts. We literally hand select each and every exotic West Texas cedar post, header beams and rafters for each build and wrap the roof in Mexican Hand–Woven and tied grass reed. It is estimated that the breathable grass roof decreases the ambient temperature under the structure as much as "30 degrees"! Our structures are true testaments of Master Craftsmanship. Truly a one of a kind custom shade structure.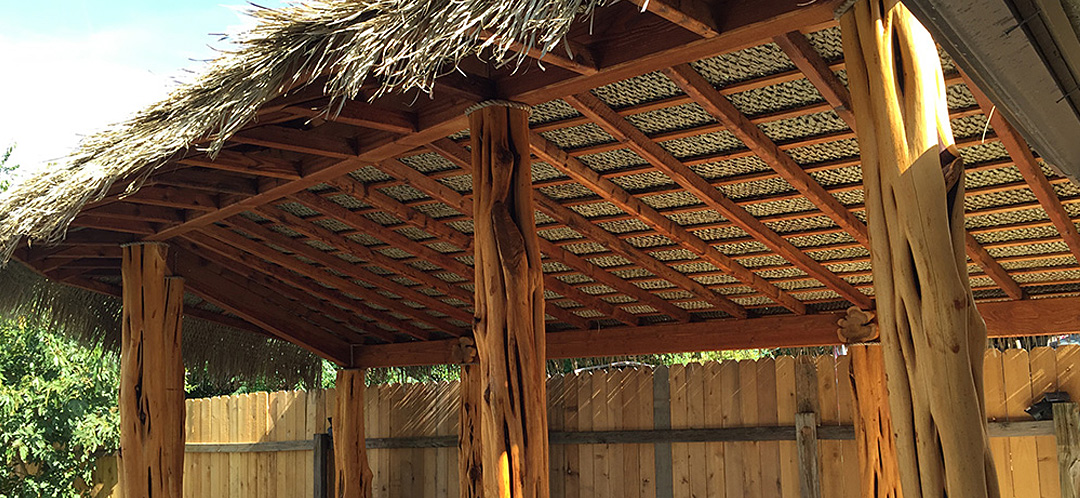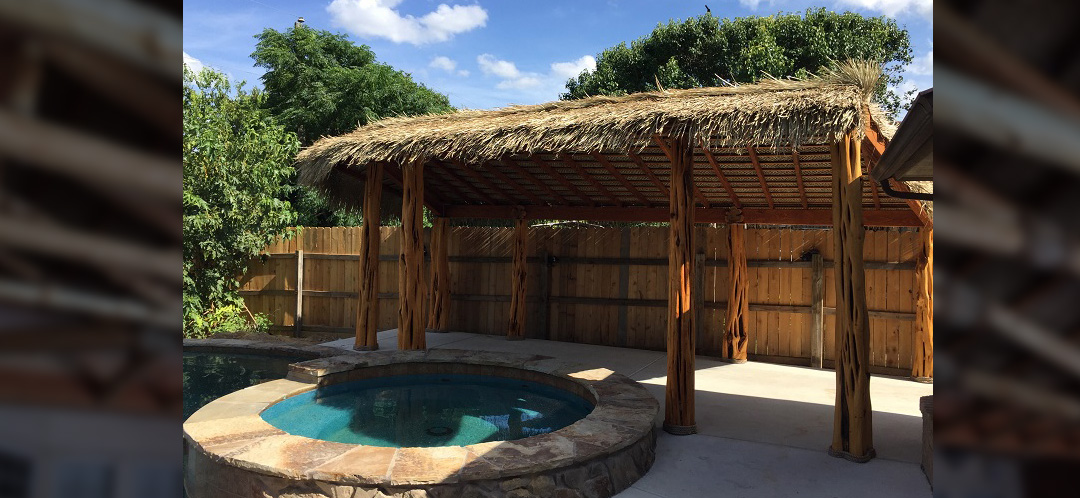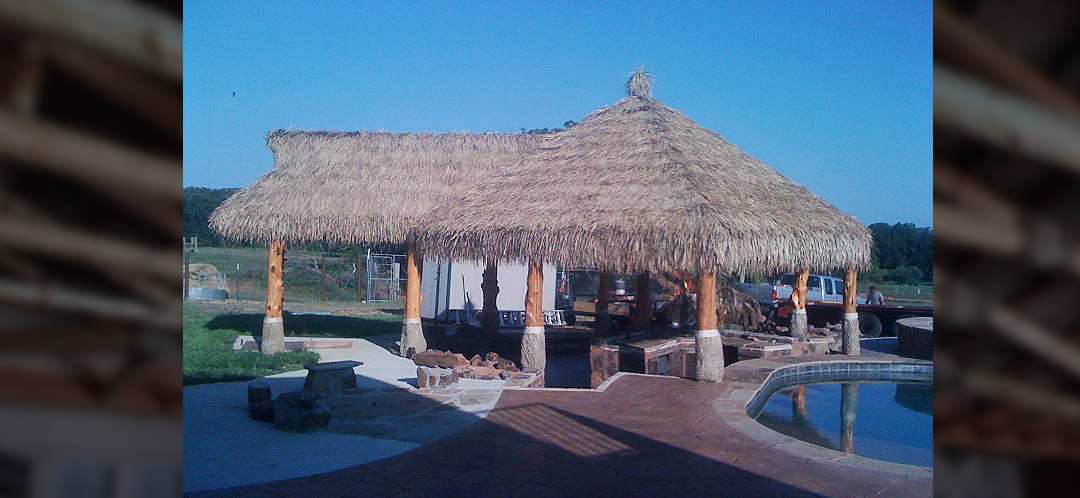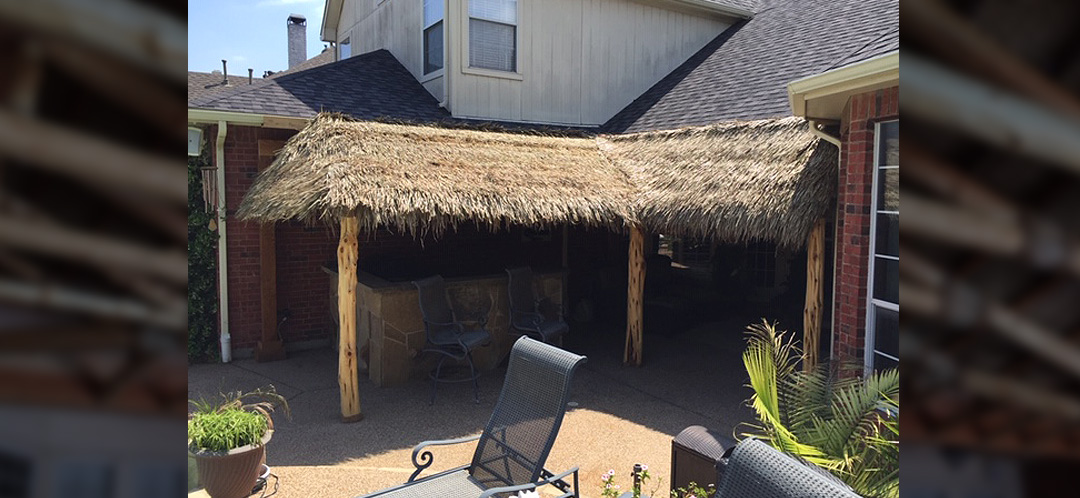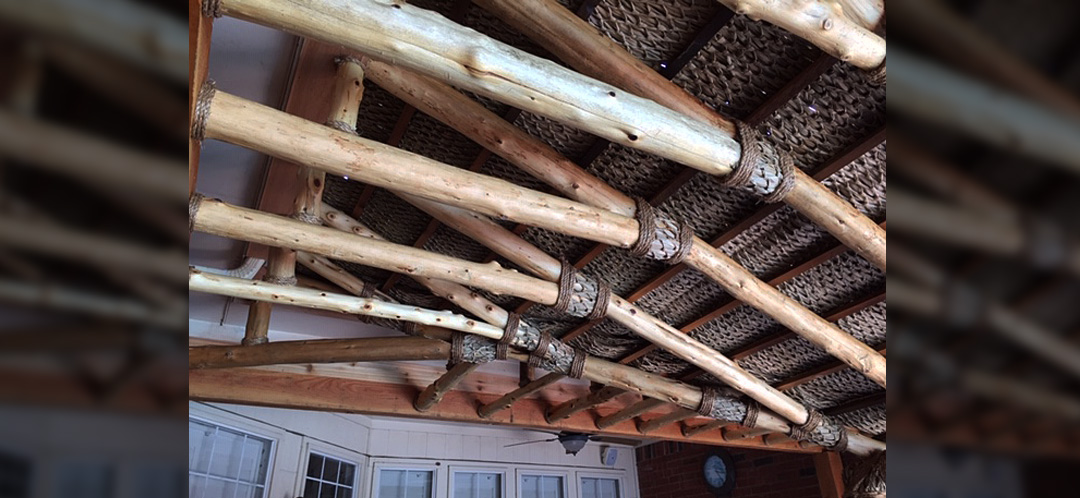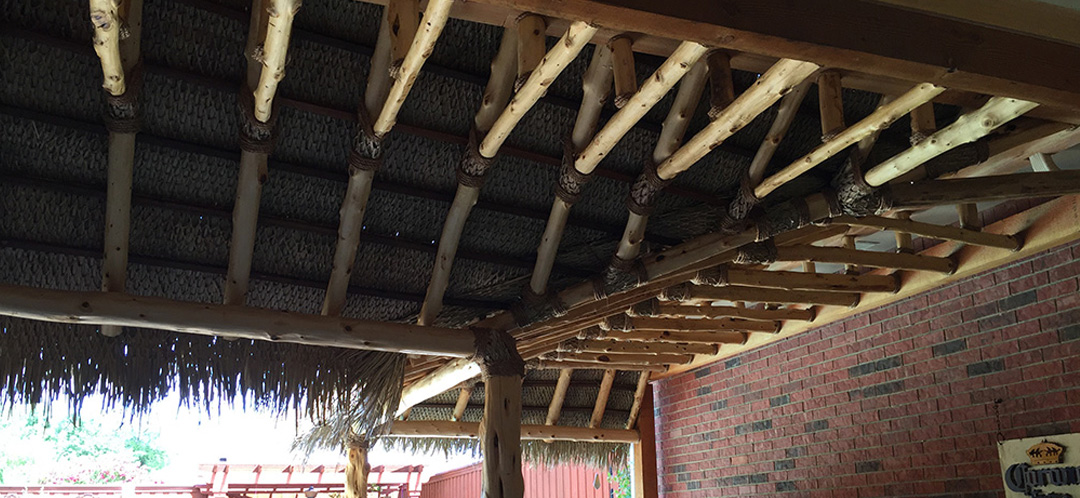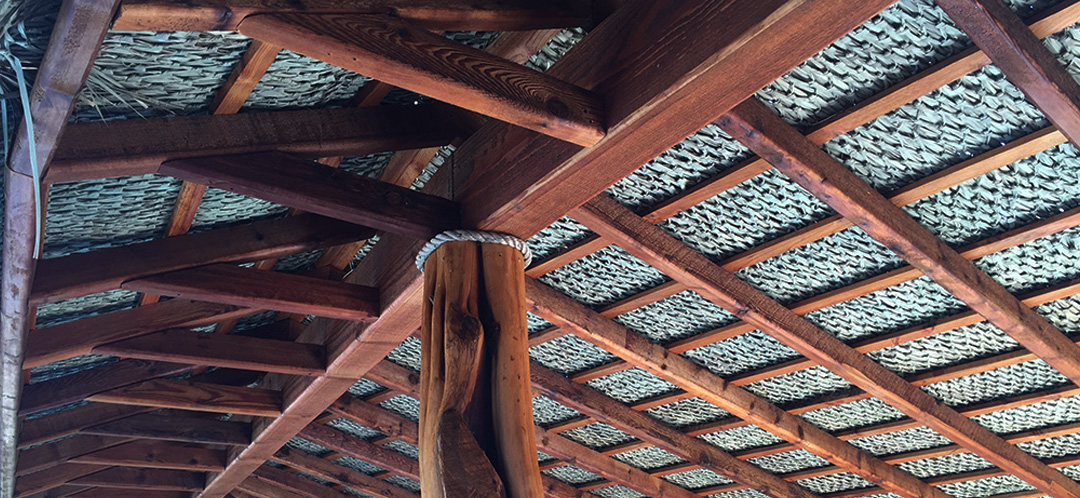 "Amazingly Beautiful & Unreal Work!"
"I came across Monster Constructors after searching for a grass hut installer. I wanted something really authentic and after communicating with Mark over the course of a couple years I finally decided to pull the trigger. My wife and I nervously left on a week long vacation during the construction and when we returned, I was speechless. The craftsmanship and attention to detail was like nothing I have ever seen! These guys are not just craftsman, they are masters.
Our Palapa is… well I just don't even have words to describe it other than amazingly beautiful and unreal. I knock on the wood sometimes just as a reality check that this thing is really apart of my house now. We can't recommend Monster Constructors more!"
Tony P. - Benbrook, Texas (Palapa – Tiki Hut)
Outdoor Kitchens
As the crux of family interaction, the kitchen is the preferred place to enjoy a discussion of the day's events; by extending it outside, you bring the joy of being together to another level. With a custom-designed outdoor kitchen, you can still take part in the interaction between family members but do so while surrounding yourself with the beauty and serenity of your own backyard. Top it with one of our custom structures of your choice and the Grill Master can set up any time to cook, grill or smoke to their hearts content.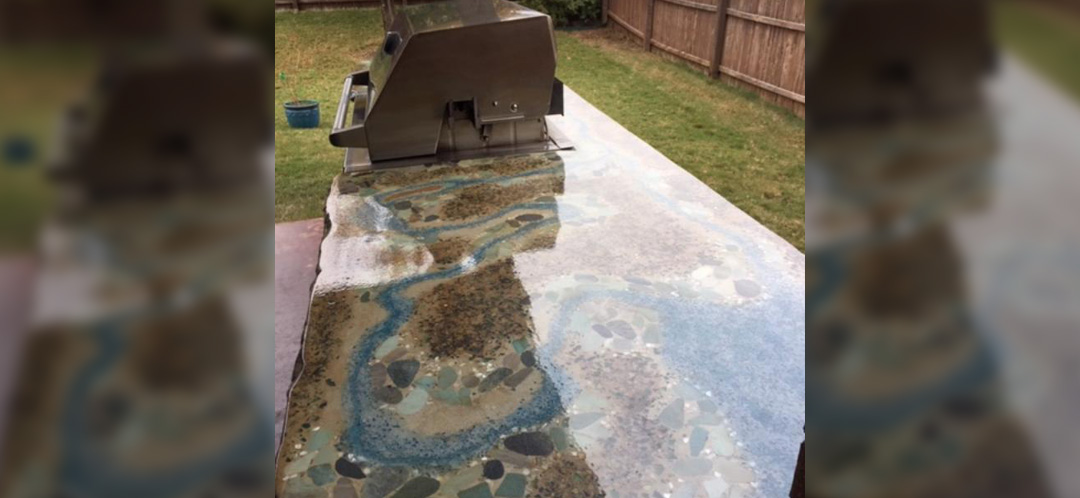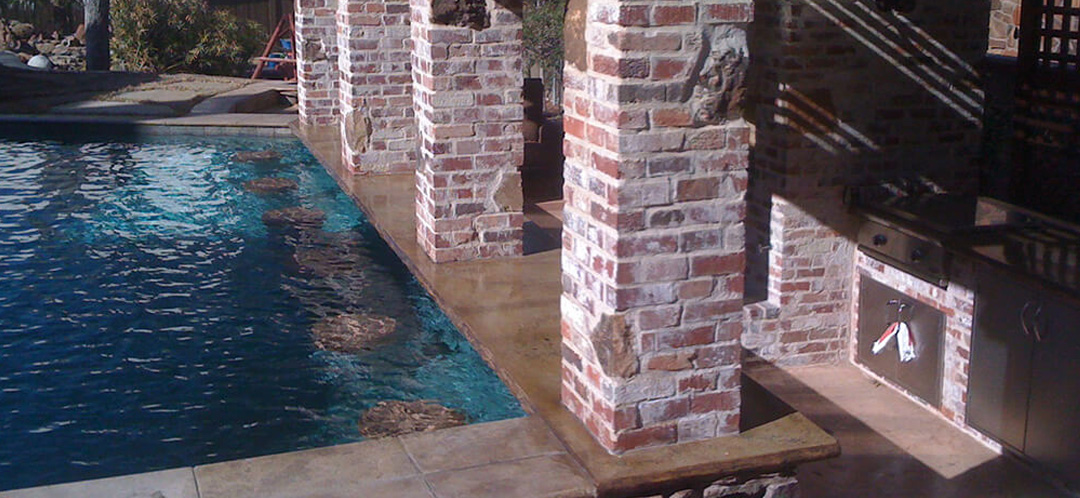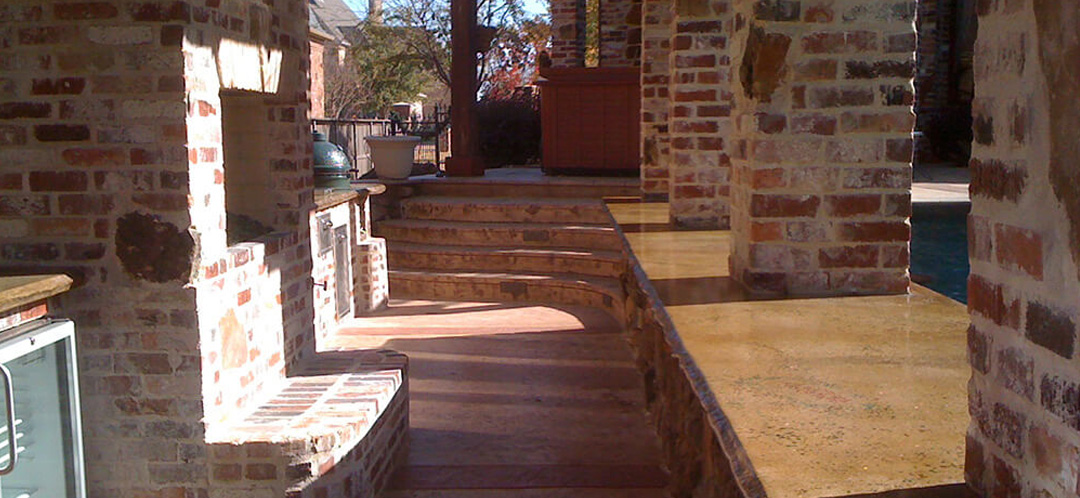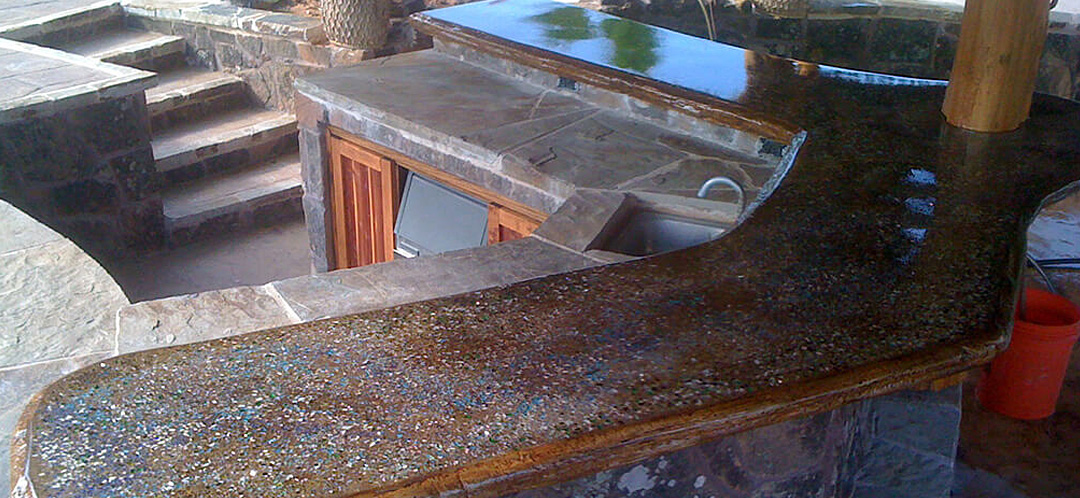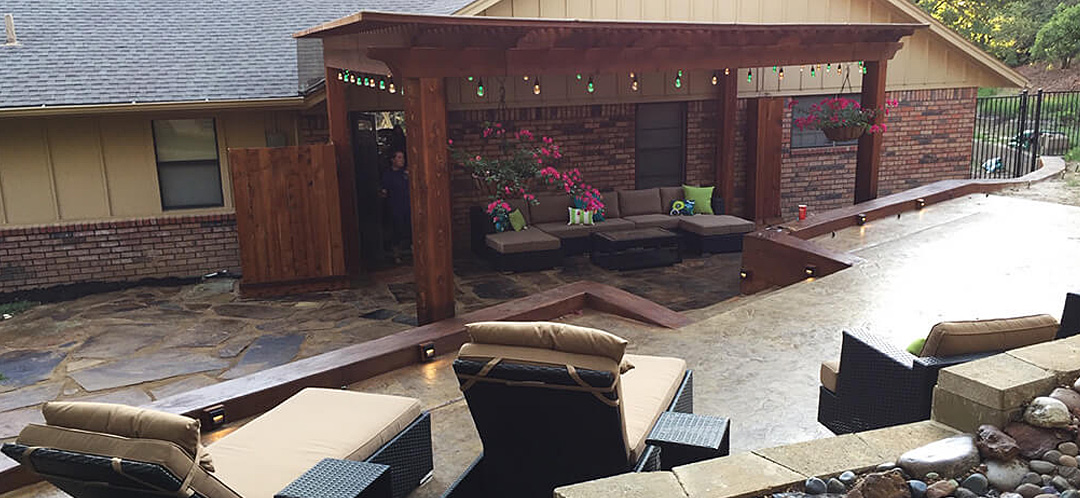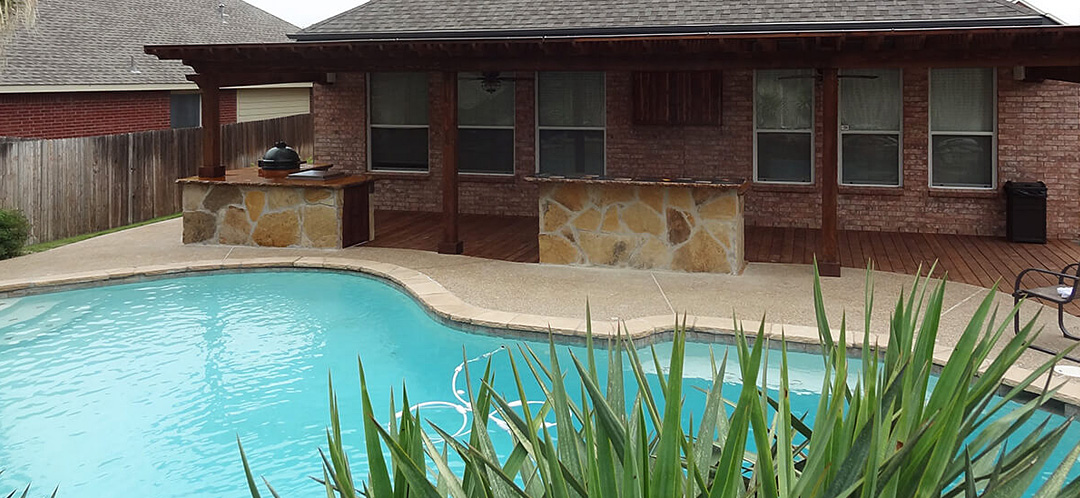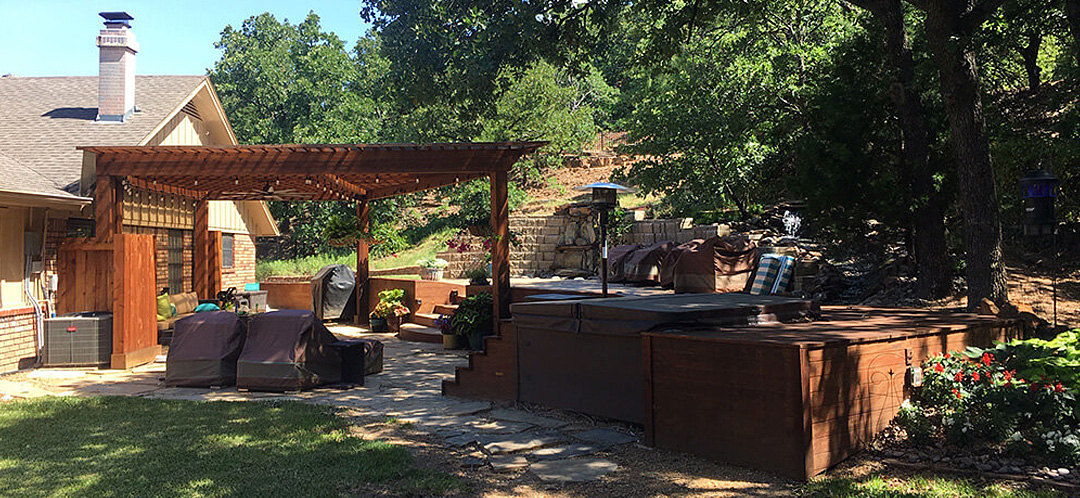 "We Could Not Be More Pleased!"
"When my wife and I decided to build in a premium BBQ grill on our back patio we contacted Mark Womack with Monster Constructors to take care of the project. I could not be more pleased with the way my outdoor grill cabinet turned out. The concrete countertop is second to none. Mark created a river scene in the concrete and believe it or not the blue river glows in the dark at night. Everyone that comes over raves about how cool it looks. I will definitely use Monster on any future projects that I might have."
Kenneth R. – Prosper, TX (Outdoor Kitchen)
Retaining Walls
At Monster Constructors we utilize the Anchor Diamond Pro Stone Cut retaining wall system. It is renowned for its rough-hewn face and earthen tones. The performance characteristics of this concrete cut stone wall block make it the proven solution for tall walls and other critical wall needs. This has allowed Monster Constructors to offer a quick and professional install every time while meeting requirements of a soil retainment barrier. Having these walls serve as a barrier for soil at different elevations can help shape areas of a landscape for more aesthetically pleasing purposes and allows better use of spaces for leisure. A long-time method to create multi-tier terrace effects, beautiful entries or adding privacy. Whatever your project might require Monster Constructors meet can your needs with our Architectural block walls.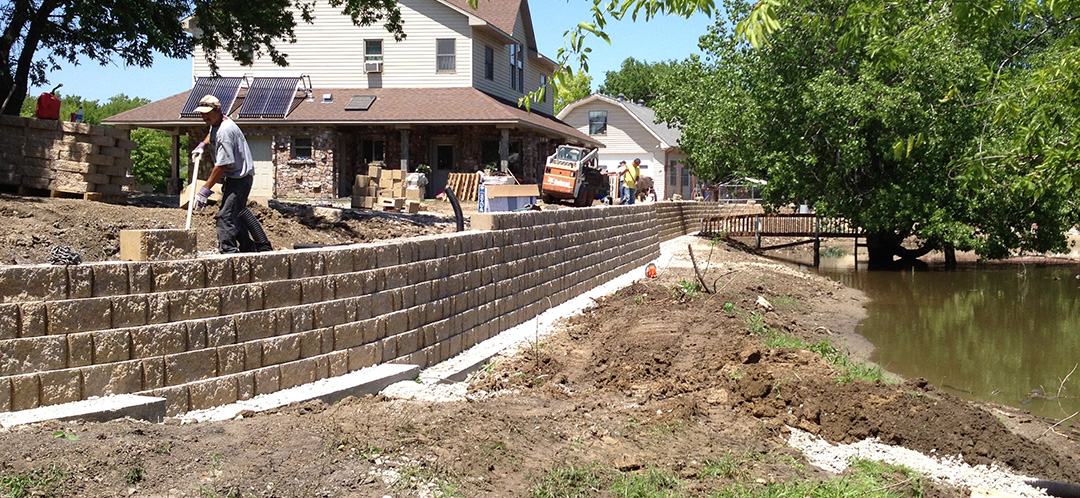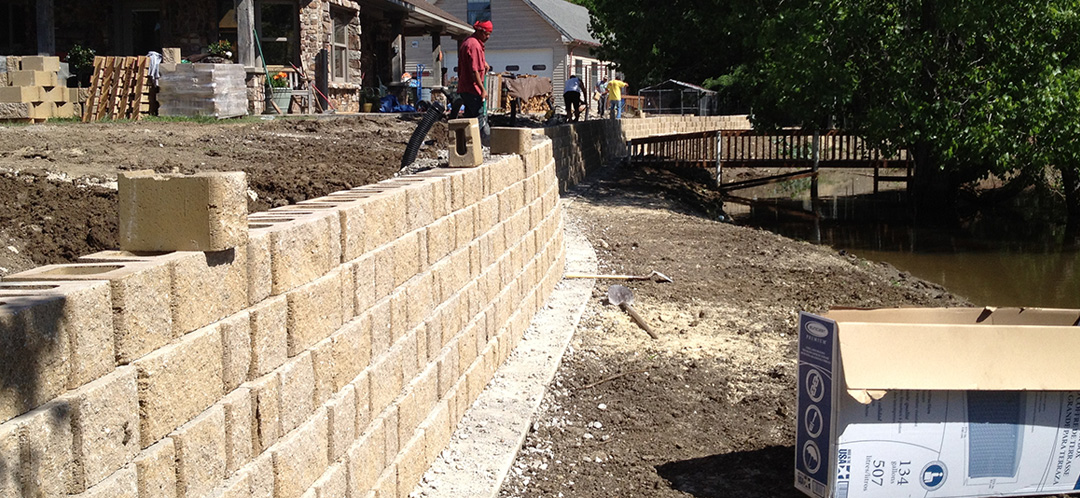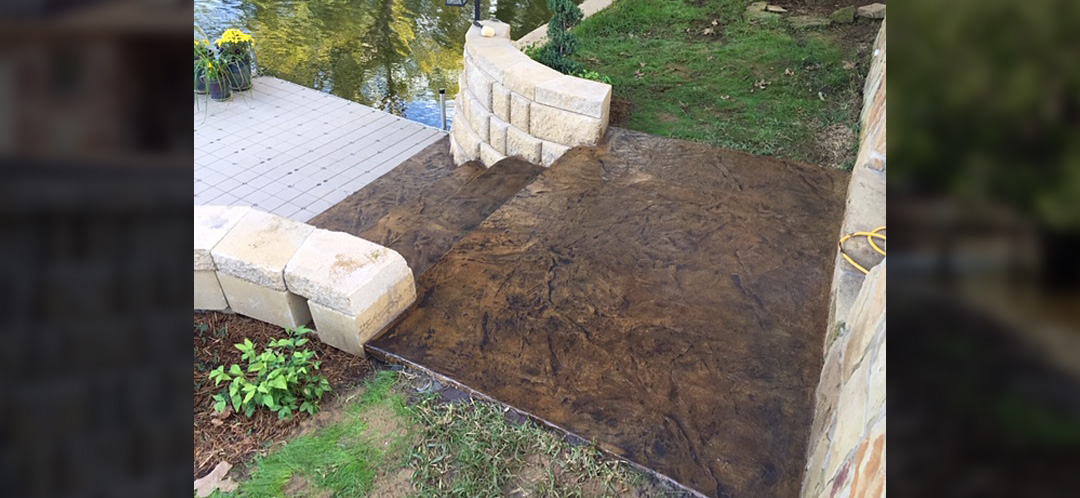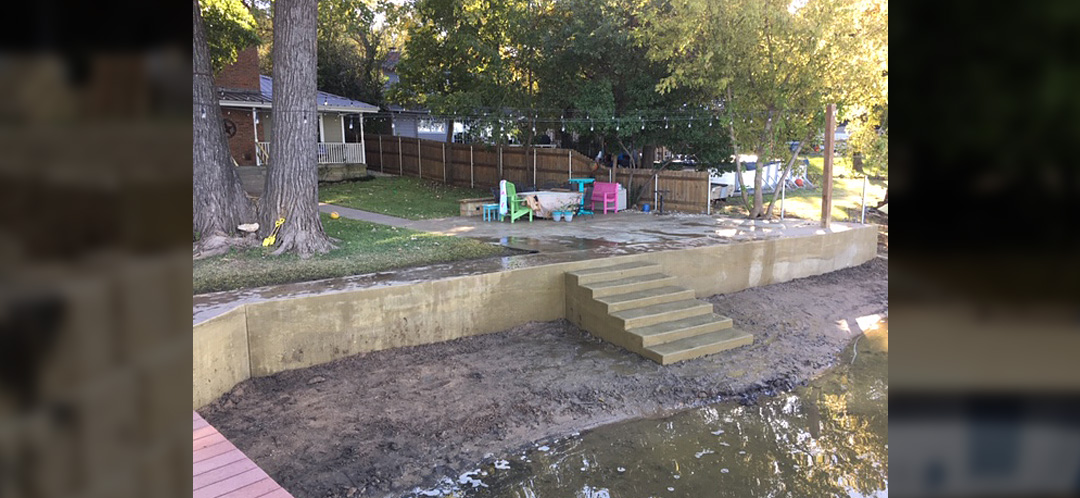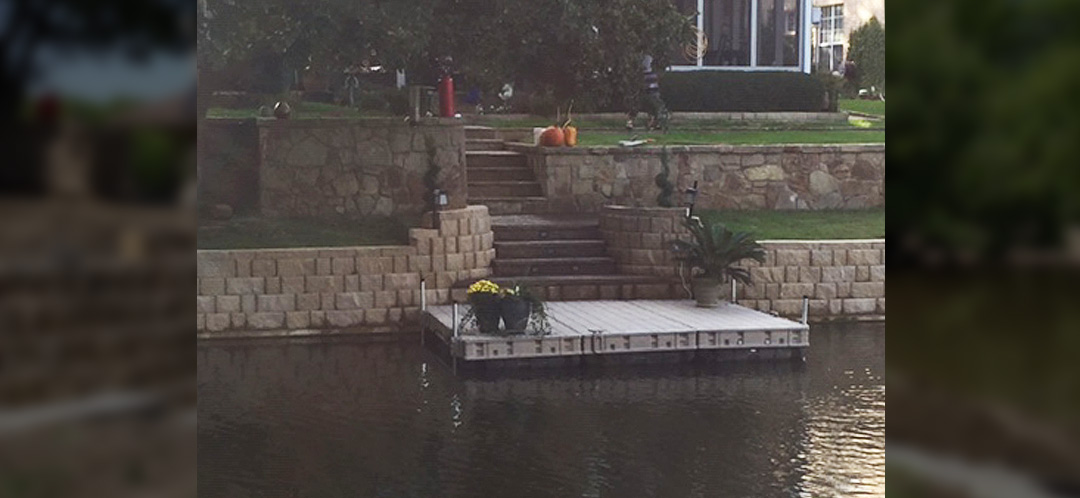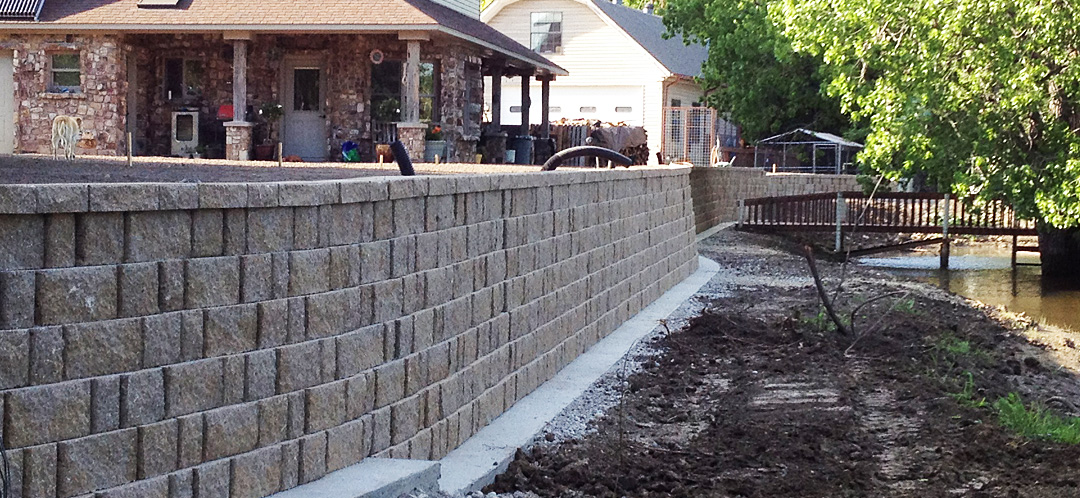 "Extremely With The End Result!"
"Mark and Monster Constructors came in and rescued my project after another contractor left me high and dry. I had half a retaining wall with rebar and jagged concrete everywhere before I found Monster. Mark and his team gave me a quote and quickly scheduled the work. They were professional and very enjoyable to deal with. We are extremely happy with the end result and would recommend Mark and his crew to anyone in need!"
Steve L. – Lake Worth, TX (Retaining Wall)
"We Could Not Be More Pleased!"
"We hired Mark and Monster Constructors to do a complete overhaul of our challenging back yard project. Mark was able to incorporate our requests into a stunning design. Mark and his crew worked in a professional and safe manner and completed the job while dealing with unexpected obstacles. By excavating into our hill side, Mark was able to create additional entertainment space and highlighted the natural environment with water features. We will be enjoying our backyard with our friends for many years to come."
Mark & Jeannie B. – North Richland Hills, TX (Outdoor Living Space)

Accepting Digital Asset Payments