Can You Picture It?
Your new ICF pool sparkling in the sunlight on a Texas afternoon. If you've been researching swimming pools for your home, then you know they are more than a luxury item. The addition of a pool to your backyard living space is an investment in your home, your family, and your health!
Swimming pools can be constructed using a variety of materials, including concrete, vinyl, and fiberglass. These materials vary widely in terms of how durable they are and what kind of benefits they offer.
While most pool builders use gunite concrete, we cast in place with Insulated Concrete Forms for our swimming pools. The reasons we prefer to use ICF are:
Quicker turnaround saving several weeks over standard construction methods
ICF pools are about 10 times stronger than gunite pools
ICF pools are more resilient than gunite pools to ground movement, meaning that it is less likely to suffer stress fractures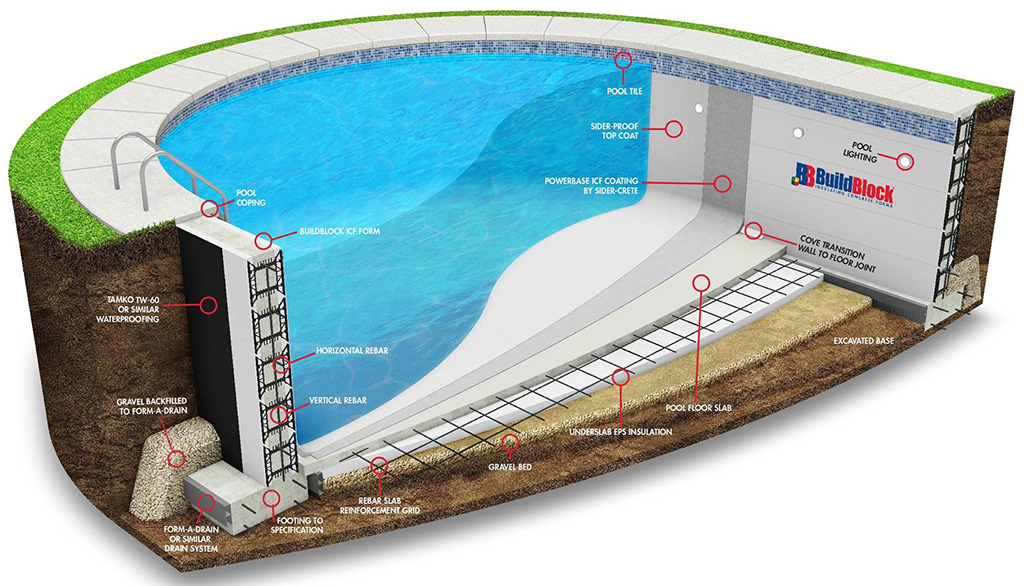 Benefits for Homeowners
When you get a ICF pool from Monster Constructors, you'll get a swimming pool that you and your family can use for many years. ICF pools are much less likely to crack over the years, no matter what kind of conditions they're exposed to – including the extreme heat we often experience during summertime in Texas.
ICF pools also offer other important benefits for homeowners. These pools provide far more flexibility in terms of design and season longevity than any other pool building method. This means that you can have a pool made to almost any size, shape, and design you want. The additional benefit is the insulated forms ability to retain heat far greater than any other pool construction material on the market, while saving approximately 60% on the actual heating requirements, meaning year around pool access at a fraction of the normal cost!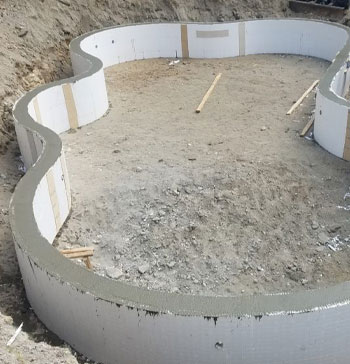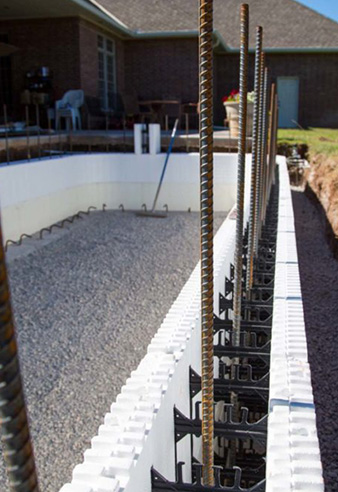 Building Just For Your Family
At Monster Constructors, we're dedicated to constructing projects on a timely manner. Constructing pools is a complex process that has to be done with safety in mind.
We know that as a homeowners you are eager to begin enjoying your pool and that it's important for your swimming pool get up and running quickly, so our team works diligently to build on schedule.
Building may be delayed due to adverse weather conditions, rain, or freezing temperatures. Spring and early summer are busy times for pool construction in North Texas, so plan accordingly if you want to be able to begin using your pool right as the weather heats up.
Our pool building generally takes between six and eight weeks, but this might differ depending on the pool design that you desire.
After designing your new pool, we will go through the construction schedule to ensure that you understand the mechanics of the process and how long it will take.
Why can cost estimates vary so much?
While the primary elements of a swimming pool construction project are consistent from one plan to another, there are a variety of options and unlimited number of special features that can be included that can affect the overall cost.
To help you better understand why there are variances in the prices for swimming pools , consider that the price is determined not just by the size and shape, but also by the quality of materials, quality of workmanship, complexity of the design and most importantly does the estimate include all aspects of construction in the price.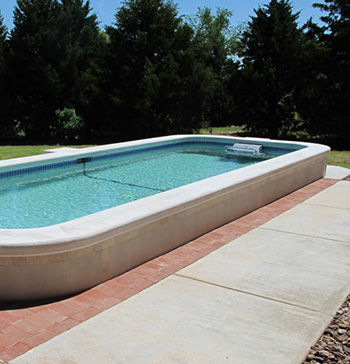 While every pool builder faces some uncertainty with the costs to prepare the site, other factors that are essential elements like retaining walls, system integration, drainage systems and safety features are often not accounted for. At Monster Constructors we provide a comprehensive priced estimate factoring in as many of these elements as possible to provide a clear and accurate cost. If there is uncertainty in an area it is identifies up front, this avoids the common "lowest bid" approach that is riveted with unexpected cost overruns.
Whether you like the sleek straight lines of a traditional pool, the whimsical shape of a free form or a custom vanishing edge oasis, our design specialist can create the backyard you have always dreamed of.
Get started with us today so we can build your dream pool tomorrow!
"I Love The Work They've Done!"
"I love the work Monster Constructors has done for our home! Our kitchen island is not only a conversational piece of art, but a focal point for the entire room. We're so excited to get started with them on our next project, an outdoor living area and swimming pool!"
Lori S.- Fort Worth, TX (Island, Outdoor Living, Pool)

Accepting Digital Asset Payments