About Monster Constructors
Monster Constructors began in 2005 as a one–stop shop, general construction company. Mark Womack acquired Monster Constructors in 2010, changing its direction and focus, and leading it to become one of the most recognized local companies for custom specialty concrete applications, winning several International awards for creativity and unique work.
Monster Constructors is a versatile specialty concrete contractor. We specialize in Insulated Concrete Form (ICF), installations which include residential homes, swimming pools, saferooms, underground structures and living shelters. Other featured services offered are custom concrete applications such as concrete counter tops, design elements, polished and epoxy flooring, and outdoor living spaces. We work with Architects, Custom homebuilders, Designers, Interior decorators, and directly with discerning owners.
Being based in Dallas–Fort Worth allows us to service the state of Texas and surrounding states. For other projects located outside this area, please contact us to discuss your particular location and project requirements.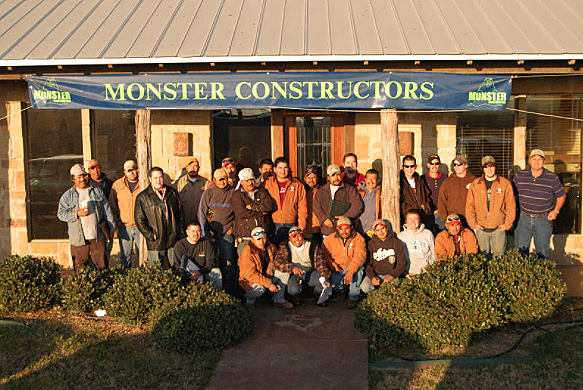 Our Mission Statement
Monster Constructors began from a passionate hobby evolving into a vehicle that brings together a multi-tier generational work force that share their experiences and craft skills. Monster Constructors allows its crew members the opportunity to display their valuable individualism while working together as a team in a united company, offering strong principled services for our clients.
We have achieved this by honorably and ethically using our company resources, talents, and capabilities to optimize the values that Monster Constructors brings to our work force, clients, suppliers, and community.
We recognize that you have a Choice.
Our Core Values:
We Value every project-based on principle and challenge not price alone.
We understand and believe that Trust is earned by transparency and character.
We believe that Reputation is Vital, and built from experience and customer satisfaction and confidence.
We work to Support our Community by being of service to and lifting others up.
Most importantly, we are Humble and never lose sight of Grace and our Blessings; being mindful and grateful for our families, friends, business associates, clients, and Country.
"They Have The Work Ethic & Professionalism To Match!"
"This is my story of the man behind Monster Constructors, I have known Mark Womack for a few years now and we share many interests and I consider him to be a very, very close friend. When I told him that my dad was in the hospital with severe complications around his respiratory health, Mark met me at my dad's house and looked at what might be able to be done to improve dad's living environment. After looking at the house Mark suggested removing all the carpeting and just going with stained concrete floors as being the healthiest option for my dad. My family is running on a shoestring budget as in just trying to keep dad's house out of foreclosure, so Mark didn't hesitate to step up and donate all his time and all the flooring material to help my family achieve the end goal of reconditioning dad's house while working to stay in what budget we could scrape up. He didn't disappoint!
Not only were we able to get all the floors we wanted done he managed to even paint all our ceilings and walls!!! The floors look fantastic and with the new paint and floors the air quality is multiple times better in my dad's house than it has ever been.
In order for us to stay under budget some sweat equity on our family's part was required. I got to spend a week with my friend observing and learning so many things from him. But to see a man, a business owner, give his all, selflessly, to help another human being in need was exactly what I needed in my life. A life lesson of empathy and compassion based on the pay it forward principle. Mark just wants what's best and healthy for people and has the work ethic and professionalism to match. What an experience! Thank you, Mark, Thank you."
Matt A. – Keller, Texas

Accepting Digital Asset Payments