Monster Constructors in the Press/Awards
Concrete Décor Magazine, Aug/Sept 2014 Issue
"Wild Salsa", Mexican restaurant firepit…although a firepit is not an unusual feature for a nice restaurant, this one is as "Wild" and unique as they come. Wild Salsa's owner's came to Monster Constructors for our assistance when the original contractor failed on the original firepit pour. We took on the challenge to not simply demolish the old but reconstruct it from the ground up. Once this structure was upright and straight, we hand seeded a confetti mixture of recycled glass with glow-in-the-dark pellets. We elected to finish the bar top by surrounding the center firepit with a grey distressed look, making an absolute stunning piece of functional art. Wild Salsa sits on the corner of Main Street and St. Paul in busy downtown Dallas. The firepit sits right in the corner section of the restaurant visible to street traffic and beckons passers-by to stop and look in and snap pictures of this unique and function work of art. All in all, it was a huge success story." READ MORE...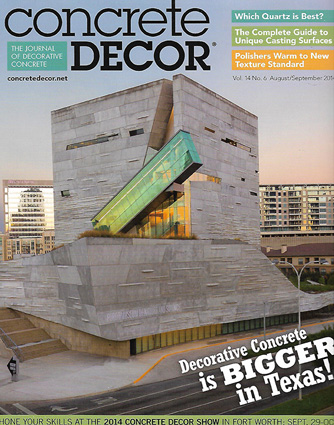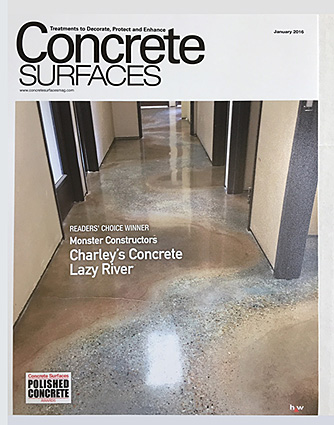 Concrete Surfaces Magazine, Jan/Feb 2016 Issue
In the fall of 2015, Monster Constructors entered the Annual International Polished Concrete contest, presenting our commercial concrete floor at Charley's Concrete, located in Keller Texas. This project came about from one of our existing clients, Brent Pennington, owner of Charley's. We were initially contacted about manufacturing the concrete countertops for the new business headquarters. After extensive collaboration, with Brent and his wife Harriet, it began to evolve into a display of decorative concrete features. And from that came the idea of a river that would meander through offices, hallways, breakrooms, etc. throughout the entire building. This would be a first for Monster Constructors for this type of a design on a floor. So we applied our extensive countertop knowledge and approached it as one massive concrete countertop with our famed river scenes. It was certainly a challenge but after 2 weeks of sunup to sundown work, the final creation was amazing! At the suggestion and nudging of others the floor was entered into the International Polished Concrete contest. After 1000's of visitors and readers from around the world reviewed all the entries, their vote for the Readers Choice award were cast. Charley's Lazy River was announced the Winner of the 2015 Polished Concrete "Readers' Choice" Award, Best project in the world voted by the world viewers. It stunned the judging panel, since the floor did not win the category it was entered in and yet it had won the overall best project, voted in by the 1000's of viewer votes, and the win was by a substantial margin. It was truly a major accomplishment in the decorative/polished concrete world. Monster Constructors proudly accepted the award during the World of Concrete Convention in Las Vegas, Nevada, the largest concrete convention in the world. Certainly, was a fitting venue!
Concrete Surface Magazine, March 2016 Issue
Lazy Concrete River, entitled "High Tide", featured on the cover page of Concrete Surfaces magazine stating "Exquisite, hand-crafted lazy river scene turns heads and wins award" the continuation of the story of "Charley's Lazy River" in Keller, Texas. Highlighting further, the unique design and artistic craftsmanship of this one-of a-kind custom stained and polished concrete floor.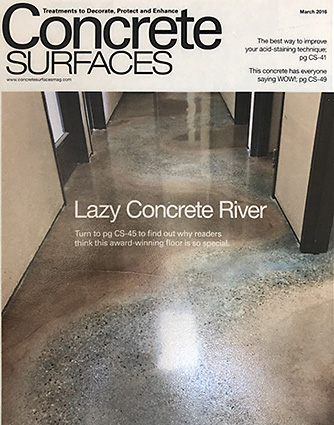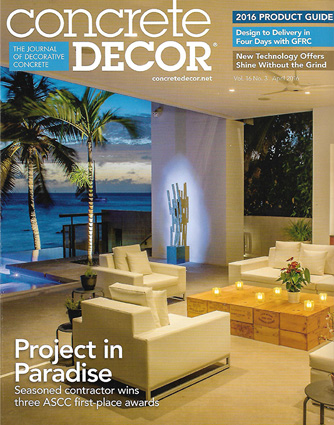 Concrete Décor Magazine, April 2016 Issue
"A River Runs Through It", featured in the industry decorative concrete magazine, Concrete Décor, tells the story of Charley's Lazy river project with drone shots of the river scene prior to the building construction, close-ups of the river in the floor while also highlighting the concrete countertops manufactured with our proprietary "StoneCrete" geopolymer concrete mix and the custom patterned stamped concrete on the exterior entrance of the office building. READ MORE...
Concrete Construction Magazine, October 2016 Issue
Proclaimed as the "Ultimate Kitchen", this project was based on the dream and vision of Harriet Pennington. Harriet is such a wonderful client to work with and this marked our 3rd collaboration together. We blended many different batches of integral colors, recycled glass, mirrors, and seashell, trying to ensure we would capture Harriet's vision for her dream kitchen. Several times during this collaboration process she would provide feedback to Artisan Mark Womack. After contemplating and not finding the just right color combinations and with the Pennington's leaving for vacation, Mark expressed to Harriet, "don't worry I know what you want", and off to vacation she went to return to the "Ultimate concrete kitchen", entitled "Heart of Concrete".
Harriet is the wife of Brent Pennington owner of Charley's Concrete, it just seemed that since Brent had his award-winning floor, Harriet deserved an award-winning kitchen! The Pennington's and others were so impressed with it that it was decided to enter the "Heart of Concrete" in the International Polished Concrete contest in the Category of Concrete Countertops and Furniture.
It was a rigorous competition in one of the most competitive categories, which brought together amazing projects from Australia, Brazil, Canada, UK and Mexico. First the panel judges had to secretly cast their votes the category winners, then it was time for the viewers to cast their votes from around the world for the "Readers Choice", Best project in the World. Monster Constructors was announced winner of the Countertop and Furniture Category and for first time in history of the contest it was announced that Monster Constructors had also won the "Readers Choice Award" in back to back years.
For Monster Constructors what more could we ask for then to have our most supportive clients Brent and Harriet Pennington each having their own unique and creative concrete projects and both winning International awards. Truly "Heart of Concrete"! See Pictures or READ THE ARTICLE...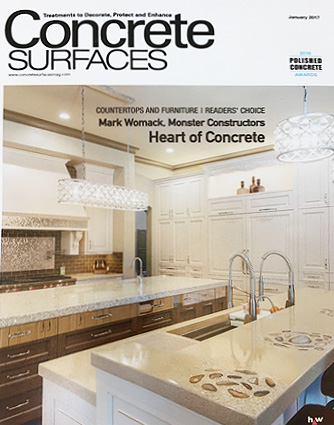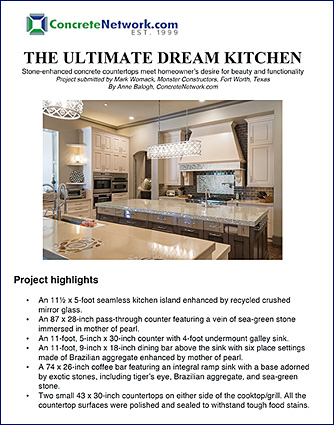 Concrete Décor Magazine, Article
"THE ULTIMATE DREAM KITCHEN"
Stone-enhanced concrete countertops meet homeowner's desire for beauty and functionality. Project submitted by Mark Womack, Monster Constructors, Fort Worth, Texas..  READ MORE...
Monster Constructors Owner and Concrete Artisan Mark Womack
with Mentors at World of Concrete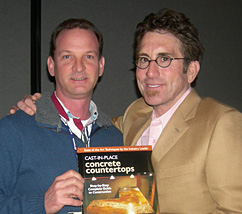 Mark & Tom Ralston
"World of Concrete 2008"
Tom Ralston, Tom Ralston Concrete, Santa Cruz, CA – Taught Mark to think out of the box and view concrete as his canvas to create from.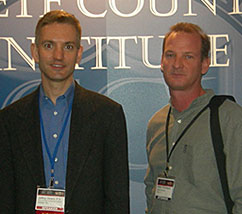 Mark & Jeff Girard - "Concrete Countertop Convention"
Jeff Girard, Concrete Countertop Institute, Raleigh NC – mentored Mark  in the basics of concrete mixture, mold design, and pre-cast techniques.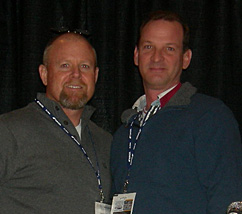 Bob Harris & Mark
"Lecture Acid Etching"
Bob Harris, Decorative Concrete Institute, Douglasville, GA – Taught Mark the cast in place technique and introduced him to concrete dye systems for concrete coloring.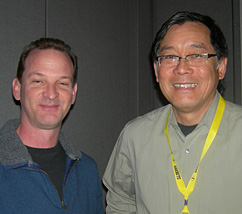 Mark & Fu-Tung Cheng
"Advance Countertop Fabrication"
Fu-Tung Cheng, Cheng Designs, Berkley, CA - Introduced Mark to the fundamentals of good concrete design and functionality.
"They Did An Incredible Job!"
"I first met Mark Womack from Monster Constructors several years ago when I needed my concrete driveway installed. Mark had the best price around and he had a phenomenal crew. I have personally run a lot of concrete in my life so I'm quite familiar with all aspects of the process. This was an" 11 concrete truck" pour and I sat on my retaining wall near the driveway and watched in amazement as his crew ran this job. There was a crew of about 10 guys, and it was so impressive to watch them work. All the guys knew each other's jobs and they cycled through all the positions to get that 110-yard concrete slab finished in one day. I was so impressed by their performance and quality of workmanship that I hired Monster Constructors again to build a 5 foot by 250 foot retaining wall. This was a heavy architectural block wall like you see at commercial businesses. They did an incredible job and knocked it out in a matter of days. They never cut any corners and treated me with respect. I have nothing negative to say about Mark and his crew. They do top notch work and I wholeheartedly recommend them."
Rick L. – White Settlement, TX (General Concrete & Retaining Wall)

Accepting Digital Asset Payments